Salle Ouest, Stade de l'Amitié. Libreville
The Salle Ouest is a conference events center located in Stade de l'Amitié (Friendship Stadium), Libreville. A purpose built state of the art Convention Centre with sophisticated audio-video, communication and Information technology, Salle Ouest can accommodate up to 1500 delegates in its plenary hall and various number of persons in other adjoining halls.
It is conveniently located within the city of Libreville and within reasonable proximity to the international airport and a wide range of budget and luxury hotels. Of particular interest to conference participants is the number of close traditional and international restaurants offering rich diversity of cuisine with a touch of African, Indian, Chinese, Turkish, and Italian foods.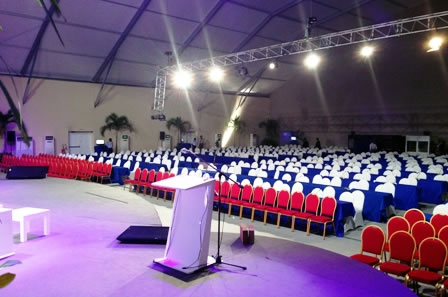 Apart from the big conference hall, Salle Ouest has other conference rooms that can seat 5 – 300 in flexible setups including theatre, classroom, half-moons, hollow-squares, horse shoe, etc.
Equipment include Simultaneous Interpretation System (SIS) of up to 4 languages, audio visuals and LCD projectors. Wireless and wired Internet service is also available along with catering, exhibition areas, secretariat offices, VIP rooms and ample parking space.